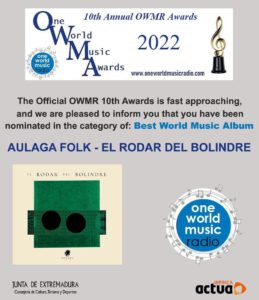 Sin apenas tiempo para poder saborear nuestra elección desde Italia entre los mejores discos no italianos del 2022, nos llega esta primicia aun calentita:
Aulaga Folk con #elrodardelbolindre desde One World Music elegido entre los 10 mejores discos del 2022 (BEST WORLD MUSIC ALBUM) que entran directamente en la votación de los jueces para determinar el mejor de los 10.
Para nosotros es un autentico honor y orgullo estar entre los elegidos, ya es el mejor de los premios, seguimos sorprendidos, emocionados y agradecidos.
🇬🇧
With hardly any time to savor our choice from Italy among the best non-Italian albums of 2022, this still warm scoop comes to us:
Aulaga Folk with #elrodardelbolindre from One World Music chosen among the 10 best albums of 2022 (BEST WORLD MUSIC ALBUM) that enter directly into the vote of the judges to determine the best of the 10.
For us it is a real honor and pride to be among the chosen ones, it is already the best of the awards, we continue to be surprised, excited and grateful
#extremadura #oneworldmusic #folkextremeño #musicafolkextremeña #folkiberico #musicafolk #worldmusic Actua Iberica Consejería de Cultura, Turismo y Deportes Junta de Extremadura
---